New Las Vegas megaresort City Center, which we reviewed in January (it features buildings by Daniel Libeskind, Cesar Pelli, Rafael Viñoly, Helmut Jahn, and others) just reported its first quarter results. They weren't good. The's $8.5 billion project, owned by MGM Mirage and  Dubai World (which has finally worked out a debt restructuring deal with its creditors), recorded an operating loss of $255 million, and has only been able to sell about 100 of its 2,400 luxury condominiums, according to the Wall Street Journal. MGM is also locked in a lawsuit with its contractor, Perini Building Co, for defective workmanship and overbilling. For what it's worth the company claims that it will soon begin to turn a profit on the project. Now that's a Vegas bet we're interested in following.
After a recent visit we saw that Las Vegas' 18 million square-foot City Center project, with buildings by Daniel Libeskind, Norman Foster, Cesar Pelli,  Helmut Jahn, Rafael Vinoly, and KPF, among others, is well underway. In fact despite delays (remedied by foreign investors), the project's web site still claims it will be done by this year. We also noticed that Libeskind's new building is sporting a conspicuous Louis Vuitton logo. Only in Vegas.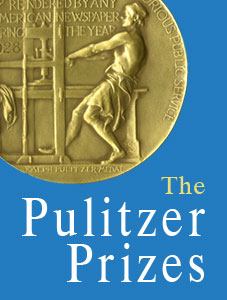 First the Pritzker, now the Pulitzers. This year's journalism awards were announced today, and a few of the awards and nominees might be of especial note to the architectural community. First up is the prize for public service journalism–the industry's highest honor–which was awarded to the Las Vegas Sun for a series exploring a chilling spate of construction deaths on the Strip, including at the starchitect-laden City Center. Elsewhere, Inquirer architecture critic Inga Saffron was named a finalist for the criticism prize for "her fascinating and convincing architectural critiques that boldly confront important topics, from urban planning issues to the newest skyscraper." (We think she should have won out over Times art critic Holland Carter.) There were even flashes of impressive architectural photography in the breaking news photo category. And who knew editorial cartoonist Steve Breen was such a capable renderer?