Announcing the Gehry Prize.
Frank Gehry has won every architecture award you can think of, from the Pritzker to the AIA Gold Medal. Now he has one named after him, thanks to his $100,000 donation to SCI-Arc. The Gehry Prize will be awarded annually to the school's best graduate thesis. The first prize will be handed out this Sunday at SCI-Arc's graduation. Gehry has been a SCI-Arc trustee since 1990, and has been involved with the school since its inception in 1972. Which reminds us: SCI-Arc will be 40 next year.
Tweet
The University of Notre Dame School of Architecture announced that Robert A. M. Stern has been named this year's Richard H. Driehaus laureate. The prize, which comes with a $200,000 purse, "honors the best practitioners of traditional, classical, and sustainable architecture and urbanism in the modern world," according to a statement. Founded in 2003, the prize has previously honored lesser known architects such as Rafael Manzano Martos of Spain and Abdel-Wahed El-Wakil of Egypt in addition to marquee American traditional and classicist architects like Andres Duany and Elizabeth Plater-Zyberk and Allan Greenberg (several Driehaus recipients have also won or been involved in the National Building Museum's Vincent Scully Prize).
Click through to see more of Stern's work
Tweet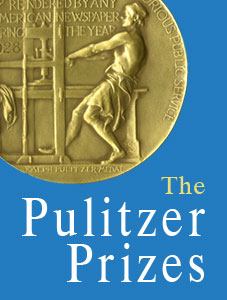 First the Pritzker, now the Pulitzers. This year's journalism awards were announced today, and a few of the awards and nominees might be of especial note to the architectural community. First up is the prize for public service journalism–the industry's highest honor–which was awarded to the Las Vegas Sun for a series exploring a chilling spate of construction deaths on the Strip, including at the starchitect-laden City Center. Elsewhere, Inquirer architecture critic Inga Saffron was named a finalist for the criticism prize for "her fascinating and convincing architectural critiques that boldly confront important topics, from urban planning issues to the newest skyscraper." (We think she should have won out over Times art critic Holland Carter.) There were even flashes of impressive architectural photography in the breaking news photo category. And who knew editorial cartoonist Steve Breen was such a capable renderer?