Earthshaking Costs.  The cost of an earthquake goes well beyond the financial, as the world witnessed with the disaster in Japan, but preventative measures do cost;  Architizer cites a report by California Watch that warns of cost-cutting and corruption in the cash strapped state, boiling down the numbers and creating clear cut infographics to illustrate the need and function of base isolation and mass dampers.
Bring Me Your Tired One Arm Bandits. With all due respect to our Nevada brethren, New Yorkers are somewhat chagrined to learn that the Post Office will not fix their goof of putting an image of the Las Vegas rendition of Lady Liberty on a new stamp rather than an image of the original in the New York Harbor. Officials say the teenage version will stay, prompting Ed Koch to sound off to The Times "…the post office is doing a stupid thing."
Riverfront Fortress. With tax day looming, don't try to go postal with the IRS in Philly. You won't stand a chance. The agency has taken over the main branch of the old Post Office overlooking the Schuylkill River. The WPA-era grand limestone edifice took on $252 million makeover, and Philadelphia Inquirer critic Inga Saffron is not impressed. Saffron says the building, heralded as the new gateway to University City, keeps the gates closed by overdoing security measures (via ArchNews).
Kaboom! NBC affiliate in the Bay Area has footage of the demolition of the last remaining WWII-era military hospital in California (via Curbed).
Rafael Vinoly recently completed a new addition and renovation at the Cleveland Museum of Art, a major encyclopedic collection set in the city's leafy University Circle area, which includes Case Western Reserve University and cultural institutions like the famed Cleveland Orchestra. The campus includes a 1916 Beaux Arts building and a Marcel Breuer-designed addition from 1971. Vinoly reportedly worked closely with the museum's then director Timothy Rub, and critics have praised the addition's galleries and the improved circulation throughout the complex.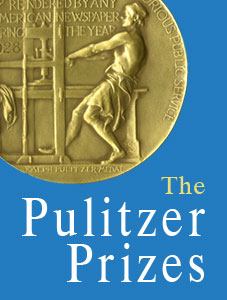 First the Pritzker, now the Pulitzers. This year's journalism awards were announced today, and a few of the awards and nominees might be of especial note to the architectural community. First up is the prize for public service journalism–the industry's highest honor–which was awarded to the Las Vegas Sun for a series exploring a chilling spate of construction deaths on the Strip, including at the starchitect-laden City Center. Elsewhere, Inquirer architecture critic Inga Saffron was named a finalist for the criticism prize for "her fascinating and convincing architectural critiques that boldly confront important topics, from urban planning issues to the newest skyscraper." (We think she should have won out over Times art critic Holland Carter.) There were even flashes of impressive architectural photography in the breaking news photo category. And who knew editorial cartoonist Steve Breen was such a capable renderer?